NEWS
CATPC presents work at Statista in Berlin
CATPC artists Ced'art Tamasala and Matthieu Kasiama have presented their work in a workshop and a presentation with, among others, Chto Delat and ruangrupa at Statista in Berlin, 12-16 September 2019.
Sculpture Workshop with Ibrahim Mahama
Ibrahim Mahama visited the Cercle d'Art des Travailleurs de Plantation Congolaise in Lusanga to discuss his work and lead a Sculpture Workshop.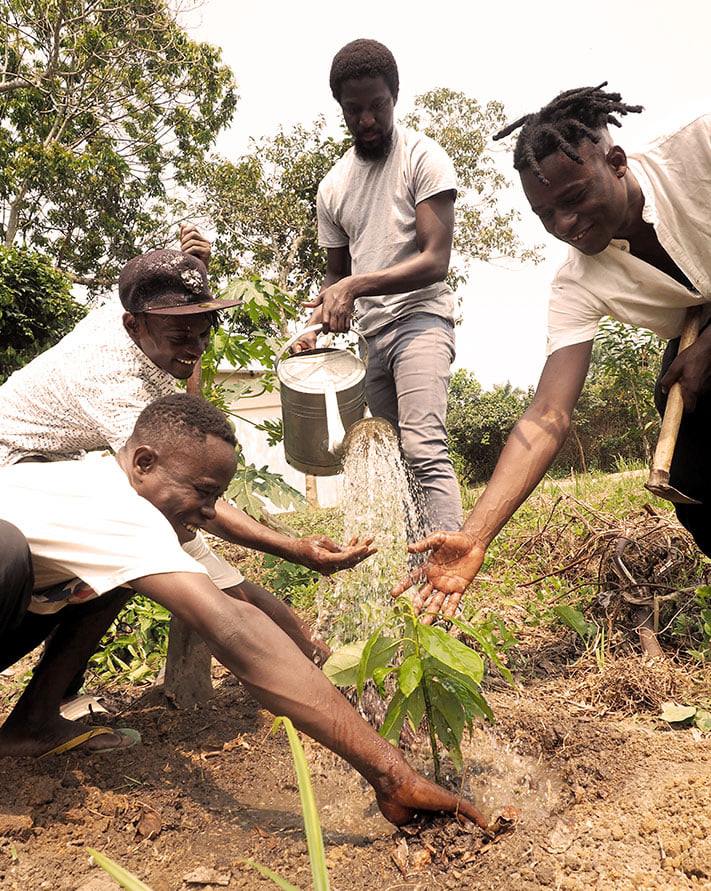 Image: CATPC members Ced'art Tamasala and Matthieu Kasiama along with visiting musician Kalej plant a tree for Ibrahim down by the Kwenge river.
CATPC at Art Basel
CATPC's sculpture How My Grandfather Survived was exhibited at Art Basel by KOW. Rendered in gold, it was on view until June 16, 2019.
Cedart Tamasala wins Congo's Art Tembo prize
CATPC's Vice President and artist Cedart Tamasala has won Congo's Art Tembo prize in Kinshasa on April 21 2019.
LIRCAEI listed "Best Projects Opening in 2019"
IHA and CATPC's collaborative center LIRCAEI (Lusanga International Research Center for Art and Economic Inequality) has been listed as "Leading Architects' Best Pro-Bono Projects Opening in 2019"
Architectural Digest listed the centre as an example of how architects are investing in ventures for sustainability and the greater good. OMA's architect on the project, David Gianotten, commented:
"The museum aims to encourage the much-needed public debate on contemporary art's current distributions of power and value chains. OMA supports the centre's ambitions to produce an artistic critique to the art world and its inequalities, and to facilitate its investigation into strategies of resistance."
White Cube in Top 10 museums and cultural venues
Designboom placed The OMA-designed White Cube in Lusanga in the Top-10 of groundbreaking museums and cultural centers of 2017. Off to a good start! A full article from Designboom can be found here.
Also congratulations to Zeitz MOCAA – Museum of Contemporary Art Africa and Louvre Abu Dhabi by Jean Nouvel for making this list.