NEWS
UPCOMING EVENTS
February 2021
KW Berlin

In February a program around White Cube will take place every weekend at
KW
.
Now until March 28, 2021
WIELS, Brussels

A key sculpture portrayed in the film White Cube is the piece Forced Love by CATPC member Irene Kanga (b. 1994). The sculpture is part of the exhibition 'Risquons-Tout' at WIELS, Brussels.
Now until April, 2021
M HKA, Antwerp

A five minute trailer of the film White Cube is part of the exhibition 'MONOCULTURE  | A recent history' at M HKA, Antwerp.
25 septembre 2020 – 24 janvier 2021
Une avant-première du nouveau film White Cube de Renzo Martens @ MUHKA, Anvers
Une avant-première de cinq minutes du film White Cube, réalisé par Renzo Martens, fait partie de l'exposition
MONOCULTURE
à MUHKA, Anvers. Le film documente la tentative improbable d'un groupe de travailleurs des plantations de racheter leurs terres avec les revenues de leurs œuvres d'art. Le long métrage sortira plus tard cette année.
L'exposition 'MONOCULTURE – Une histoire récente' tente d'analyser et de comprendre le concept de 'monoculture' menant à une compréhension plus profonde du multiculturalisme.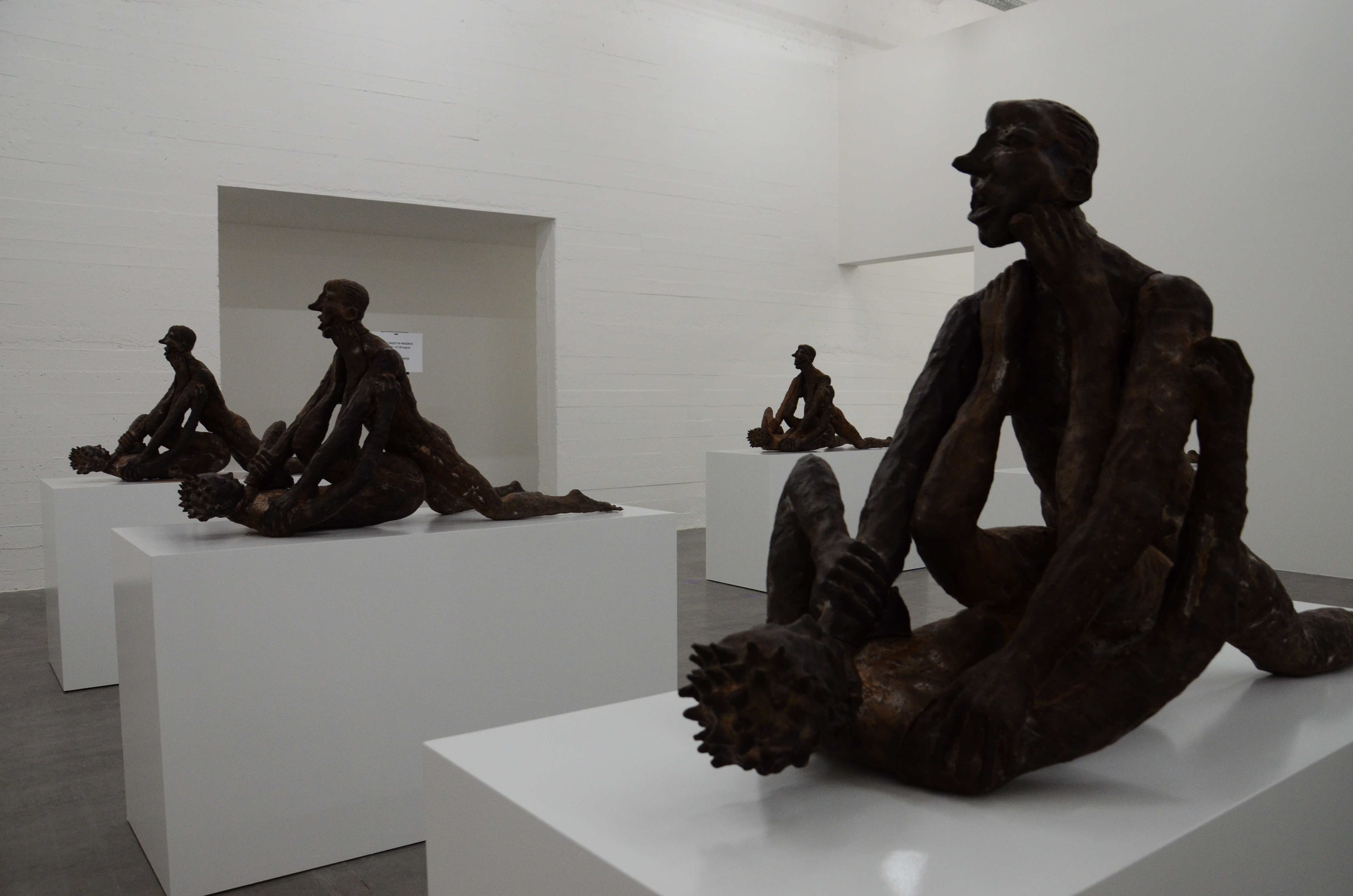 12 septembre 2020 – 10 janvier 2021
Membre du CATPC Irene Kanga @WIELS, Bruxelles
Irène Kanga (Lusanga, 1994) est membre permanent du Cercle d'Art des Travailleurs de Plantation Congolaise (CATPC). A partir du 12 septembre elle montra sa pièce emblématique Amour Forcé / Forced Love (2016-2020) lors de l'exposition Risquons-Tout au centre d'art contemporain Wiels à Bruxelles.
La sculpture représente un agent colonial commettant le viol de Kafutchi, l'épouse du chef Kelenge, lors de recrutement de travaux forcés pour les plantations d'Unilever au Congo en 1931. La pièce a été reproduite six fois en cacao du Brésil et en graisse de palme de Malaisie.
Une vidéo sur l'artiste et son oeuvre sera bientôt disponible sur le site de Wiels.
La portée géographique et politique de l'exposition aborde la connectivité globale, la circulation transnationale et les mouvements de diasporas existants aujourd'hui.
Pour plus d'informations sur l'exposition Risquons-Tout cliquez
ici
Le 9 septembre 2020
Eden, Eden, Eden à 50 @the White Cube
Pour célébrer le cinquantième anniversaire du livre polémique de Pierre Guyotat, Eden, Eden, Eden (sorti et immédiatement censuré en 1970), l'Association Pierre Guyotat organise aujourd'hui une cinquantaine de lectures dans cinquante lieux différents à travers le monde.
Le White Cube est l'un des sites participants. Plusieurs membres du Cercle d'Art des Travailleurs de Plantation Congolaise (CATPC) liront des parties du livre. Les autres lieux participants incluent la Villa Borghese, le Musée d'Orsay, le Festival d'Avignon, le Centre Pompidou-Metz, la Fondation Azzedine Alaïa, le Museo Nacional Center de Arte Reina Sofía, le Museo de Arte Latinoamericano de Buenos Aires Malba et l'Espace Artistes à New York.
Out now: Critique in Practice: Renzo Martens' Episode III (Enjoy Poverty)
A volume of essays, edited by Anthony Downey.
Investigating the economic value of one of DR Congo's most lucrative exports (namely, poverty), Renzo Martens' provocative film Episode III: Enjoy Poverty (2008) remains a landmark intervention into debates about contemporary art's relationship to exploitative economies. Throughout Critique in Practice, contributors explore the work's legacy and how it relates to the politics of representation, uses of the documentary form, art criticism, the deployment of humanitarian aid, the impact of extractive forms of globalized capital, and the neoliberal politics of decolonization. The unconventional representation of acute immiseration throughout Enjoy Poverty generated far-from-resolved disputes about how deprivation is portrayed within Western mainstream media and throughout global cultural institutions. Using a range of approaches, this volume reconsiders that portrayal and how the film's reception led Martens to found the long-term program Human Activities.
For the occasion of the publication of the book, the film Enjoy Poverty can be watched free of charge here using the promotion code: CritiqueinPractice. This campaign runs until June 1.
CATPC artists lecture at the 2020 Yale ISTF conference
The annual
conference of the International Society of Tropical Foresters
at Yale, themed:
Restoration for What and for Whom?
, will include an artist talk by Ced'art Tamasala and Matthieu Kasiama. Matthieu and Ced'art will present the White Cube program and share their perspectives on tropical forestry and ecosystem restoration.
About the 2020 Yale ISTF conference:
The year 2020 marks the deadline for many international climate change and conservation targets, yet most goals and promises remain unfulfilled … As countries around the world ramp up their pledges to restore tropical ecosystems, we need to re-examine our approach. What is being restored? Why is restoration necessary in the first place? Who will benefit from restoration efforts and who will lose out?
Matthieu and Ced'art will speak on Saturday, the first of February, between 
10:40 and 11:30
.
Human Activities improves future sculptures with refined palm oil
At Human Activities' Research and Development, we are working tirelessly to test new materials for our sculptures. In a one-year research project, generously supported by the Culture fund of the ABN-AMRO bank, the team has invented materials in many ways superior to chocolate alone.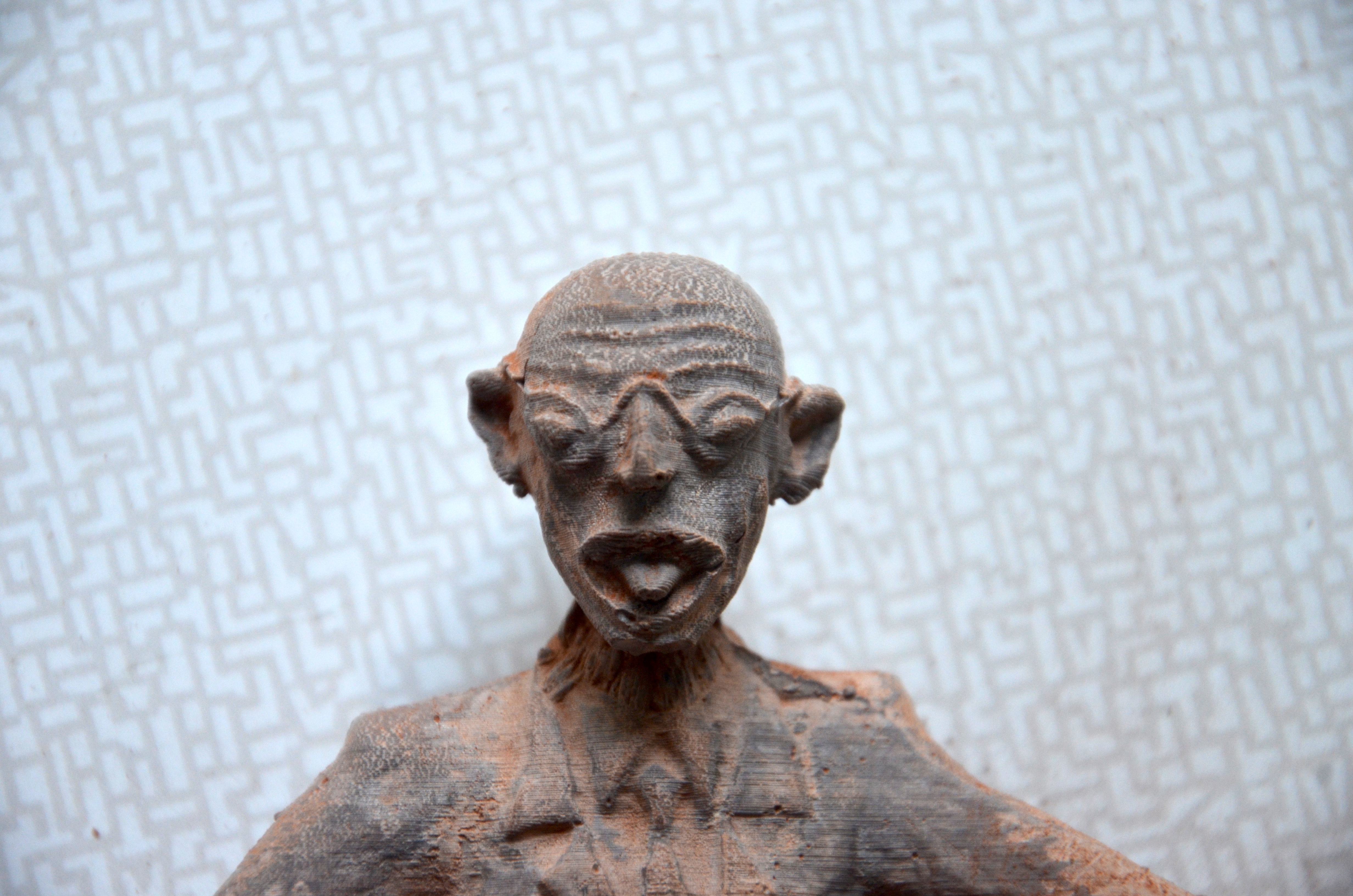 Adding refined palm oil to the sculptures makes them more rigid, more heat resilient and less inclined to fracture. Also, by replacing cacao fats with palm oil derivatives, we have managed to shave over 65% off our direct materials cost. In addition we have eased manufacturing processes up to the point where we hardly need any skilled labour in the course of production. These improvements lead to an unprecedented surge in unit value added, all the while maintaining the appreciated chocolate smell and feel. To ensure sustainability, we are aiming for a transition to RSPO certified palm oil before the end of 2020. This leap in cost-efficiency allows a greater revenue for the Congolese workers who have created the sculptures.
CATPC presents work at Statista in Berlin
CATPC artists Ced'art Tamasala and Matthieu Kasiama have presented their work in a workshop and a presentation with, among others, Chto Delat and ruangrupa at
Statista
in Berlin, 12-16 September 2019.
Sculpture Workshop with Ibrahim Mahama
Ibrahim Mahama visited the Cercle d'Art des Travailleurs de Plantation Congolaise in Lusanga to discuss his work and lead a Sculpture Workshop.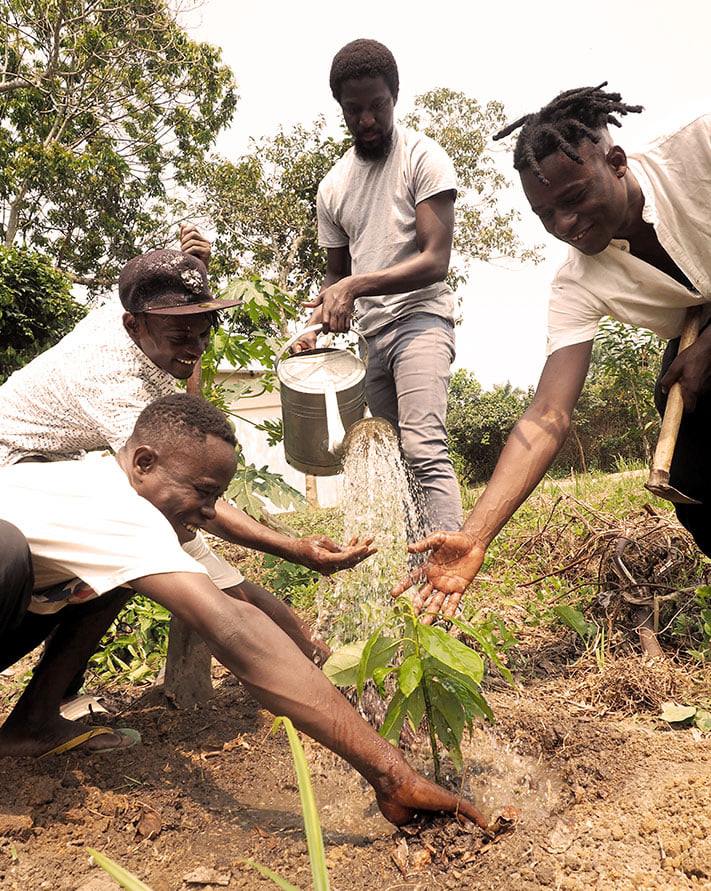 Image: CATPC members Ced'art Tamasala and Matthieu Kasiama along with visiting musician Kalej plant a tree for Ibrahim down by the Kwenge river.
CATPC at Art Basel
Cedart Tamasala wins Congo's Art Tembo prize
CATPC's Vice President and artist Cedart Tamasala has won Congo's Art Tembo prize in Kinshasa on April 21 2019.
LIRCAEI listed "Best Projects Opening in 2019"
IHA and CATPC's collaborative center LIRCAEI (Lusanga International Research Center for Art and Economic Inequality) has been listed as « Leading Architects' Best Pro-Bono Projects Opening in 2019 »
Architectural Digest listed the centre as an example of how architects are investing in ventures for sustainability and the greater good. OMA's architect on the project, David Gianotten, commented:
« The museum aims to encourage the much-needed public debate on contemporary art's current distributions of power and value chains. OMA supports the centre's ambitions to produce an artistic critique to the art world and its inequalities, and to facilitate its investigation into strategies of resistance. »
White Cube in Top 10 museums and cultural venues
Designboom placed The OMA-designed White Cube in Lusanga in the Top-10 of groundbreaking museums and cultural centers of 2017. Off to a good start! A full article from Designboom can be found here.
Also congratulations to Zeitz MOCAA – Museum of Contemporary Art Africa and Louvre Abu Dhabi by Jean Nouvel for making this list.