With the establishment of the White Cube, the mechanisms through which plantations underwrite the art world are reversed. It attracts the capital and visibility needed to invent a new ecological and economic model on site in Lusanga: the post-plantation. This model is sustained by CATPC's White Cube program (see full details below), that couples artistic production with experimental agro-forestry.
Residency Baloji
The 2018 White Cube program kicked off with a residency of the poet, musician and director Baloji. Baloji shot the video 
Peau de Chagrin – Bleu de Nuit
in collaboration with CATPC. Parallel to this video, CATPC and Baloji created a work that premiered at the 
21 st. Biennale of Sydney
.
New land
The sale of their artworks has allowed the cooperative CATPC to acquire 65 hectares, which expanded the size of their post-plantation to 85 hectares in total. Based on the most advanced agroforestry techniques, CATPC uses the land of the former plantation to establish experimental, community-owned gardens — on which the CATPC harvested their first batch of cacao in November 2018.
Site development
Following the Masterplan of OMA, the construction of a new on-site studio has been completed. The research center in Lusanga now comprises a White Cube, a studio, a conference venue and a utility center.
Institutional design and agriculture sessions with Commonland
CATPC and Human Activities have organized various in-depth sessions with Commonland in Amsterdam and on the former plantation in Lusanga in order to develop new strategies to restore the local land. The next institutional design and agriculture workshops in Lusanga will took place in February 2019.
Sculpture workshops
New sculpture workshops with CATPC started in September 2019. The workshops were led by Ibrahim Mahama and Eléonore Hellio.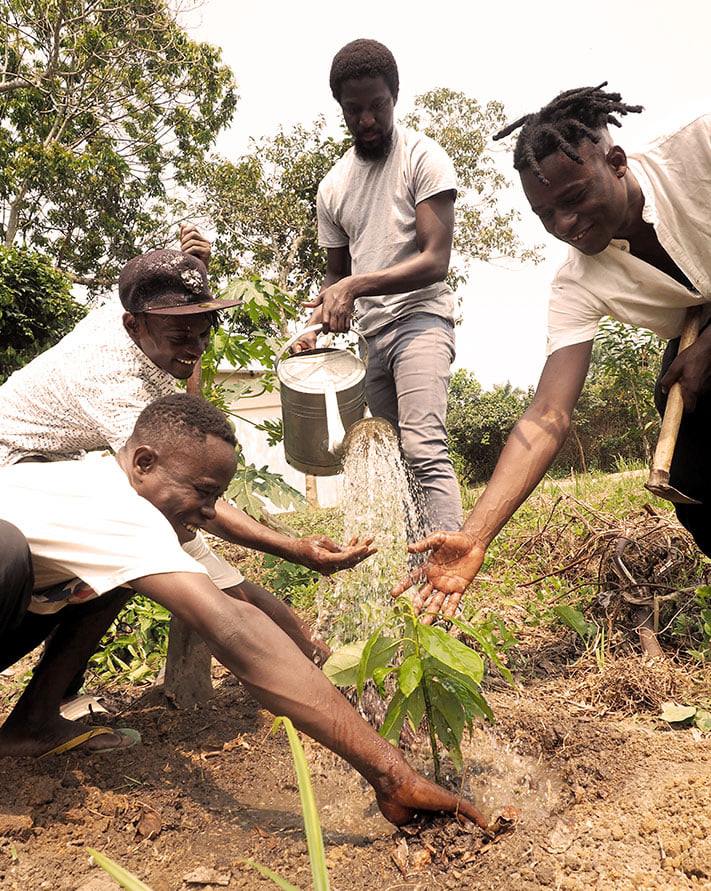 Image: CATPC members Ced'art Tamasala and Matthieu Kasiama along with visiting musician Kalej plant a tree for Ibrahim down by the Kwenge river.